Every woman, at least all the ones I've met, wants to be romanced.
We want to be swept off our feet and made to feel special. That's essentially what romance is all about, making the person you're romancing feel special, cherished and loved. Who doesn't want that? That's right, no one! Even men want to be romanced, although many of them probably wouldn't call it that.
So, if you want to get more romance from your lover, my advice is to do a little more romancing for your lover. Most men will appreciate your effort and will want to do something for you in return. Those that don't, we don't want to know, let alone be in a relationship with, right, ladies?
Ways to Romance Your Man
There are, of course, an infinite number of ways that you can romance your man and it will depend greatly on him as an individual; what he's hobbies and interest are, etc. However, there are some universal ways to show him how much you care and here are just a few of them: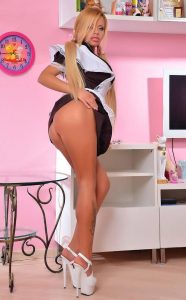 Buy him a gift, just because. It doesn't have to be expensive or flashy, just a small token of your affection. This will help remind him that you care and ensure that he knows that he's on your mind.
Make some time for the two of you. Whether it's still just the two of you or you're now a family, it's important to take some time away from the kids, family and friends. Set aside one evening, get a sitter for the kids (if you've got young children) and do something together. It can be as simple as taking a walk, having a picnic, enjoying a candlelit dinner (at home or at a restaurant) or just sitting on the couch watching movies.
Write him little love notes. This can be a simple matter of leaving a post-it on the fridge or sending him a text message. Keep it short and sweet, but make sure it's affection for the sake of affection. Probably best not to add, "P.S. can you pick up some milk."
Pamper him. Most men would claim that they don't want to be 'pampered', but we all love a little effort and affection lavished on us, don't we? So, why not offer to give your lover a massage, either back, head or foot. This will help relax him, it offers an opportunity for the two of you to talk and he will probably make an effort to return the favor.
Remember, romance, just like anything else in a relationship, has got to go both ways. We girls want more romance, but we often assume it should come to us without any effort on our parts. This, I suspect, is because the time-honored tradition states that it's men who should do the wooing. I say, forget tradition! If you won't more romance in your relationship, ask yourself this question: "Am I doing anything romantic for him?"